Reach Your Goals for Good
LV Physiotherapy helps assess, diagnose and treat symptoms of illness, injury or disability through physical rehab, injury prevention, health and fitness.
Modern, 3,000 square foot facility for physiotherapy
Team of qualified, caring healthcare practitioners
Dedicated to your care and full recovery
Don't just treat your pain symptoms, find the source.
Eliminate the issue once and for all.
LV Physiotherapy in St. Catharines will help you manage your injury and assess any underlying conditions, as well as help prevent injury in the future. A physiotherapist won't just mask your pain the way prescription medication might.
Empowered Health
At LV Physiotherapy, you're an active participant in your recovery. Get the support you deserve, feel empowered and equipped with the knowledge needed to take back control over your body
No matter your type of sprain or pain, get back to life again.
✓ Decreased pain
✓ Improved joint mobility and movement
✓ Restored physical function
✓ Injury prevention
✓ Possibly prevent or delay surgery
✓ Increase strength and flexibility
✓ Promote physical independence
✓ Personalized approach
✓ Hands on treatment
✓ One-on-one treatment
Physiotherapy services offered at our
clinic in St. Catharines include: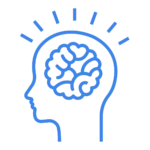 Neurological Conditions
Stroke, MS, Parkinson's, ALS, spinal cord injury, Acquired Brain Injury, Alzheimer's and more.


Concussion Management & Vestibular Rehabilitation
Management of dizziness and vertigo through Vestibular Rehabilitation and individualized post-concussion symptom management.
Orthopaedics
Sprain and strains, tendinitis, arthritis, sports injuries, shoulder pain, wrist pain, knee, hand, ankle, foot and more.


Post-surgery Rehab
ACL reconstruction, joint replacement, hip replacement, knee replacement, shoulder surgery and more.
Repetitive Strain
Carpal tunnel, tennis elbow, rotator cuff issues and more.
Motor Vehicle Accidents
Whiplash, herniated disk, concussion and a wide variety of injuries.
We also offer help with chronic pain, fall prevention, conditioning for older adults and more.
Request an Appointment
Call our St. Catharines office (905) 682-5119 or email lvphysiotherapy@gmail.com to request an appointment with one of our physiotherapists.

Just like buying a new pair of shoes, we want to ensure a good fit. That's why our administration team will book you an initial assessment with a Registered Physiotherapist who has experience with your area of concern.
Initial Assessment
Your physiotherapist will meet with you and create a plan for your journey toward health, healing and pain relief.
Please show up 10 minutes early, allowing time to complete required intake forms.

In-depth Conversation
Our team takes the time necessary to hear your story, review medical history and records, and determine what's going on.

Assessment and Plan
You will likely be asked to walk, bend and complete other simple tasks or movements that allow the physiotherapist to assess your physical capabilities and limitations. Please wear comfortable clothing.

The physiotherapist will properly explain your injury and why it's occurring. Then you will have a conversation about your goals and treatment offerings that may or may not be beneficial to your recovery, based on your individual goals. Together with your physiotherapist you will make a plan for the number and frequency of future appointments.

First Treatment
Your first treatment will happen right at your first appointment. It may include some hands-on treatment and exercises in our gym. And you will be given exercises to do at home until you see us next.
Don't forget to ask questions at any time.
1-on-1 Treatment Sessions
Whatever your goals are, one-on-one treatment sessions help you get where you want to be, reducing pain and improving function.
You and your physiotherapist will determine the frequency of sessions that will best meet your needs. And remember, the more you commit to the process and complete at-home exercises, the quicker the expected recovery.
Our treatment approach incorporates:
● Manual therapy — a great tool for mobilizing stiff joints, reducing muscle tension and improving pain.
● Corrective exercise — a way to restore and strengthen movement.
● Education — helping you become an active participant in your health care.
Remember, you only get out what you put into your physiotherapy.
Progressive Rehab Treatments
Exercise Prescription
Manual Therapy
Balance Re-Training
Strength Training
Acupuncture
Functional Dry Needling
Pain Management Strategies
NMES (Neuromuscular Electrical Stimulation)
Shockwave Therapy
Concussion Management
Vestibular, dizziness, vertigo management
Parkinson's Individual Treatment – LSVT BIG or PWR! Moves
Parkinson's Group Exercise Program
Modalities
Kinesiotaping
Heat or Ice Treatment
Pricing
Invest in lifelong lifestyle changes.
Physiotherapy Assessment: $95
Physiotherapy Treatment: $70
Physiotherapy Extended/Complex Treatment: $80
Neurological Physiotherapy Assessment: $95
Neurological Physiotherapy Treatment: $80
Parkinson's Disease Physiotherapy Assessment: $120
Parkinson's Disease Physiotherapy Treatment: $80
Parkinson's Fit Group Exercise Program – 8 Weeks: $240
Concussion/Vestibular Physiotherapy Assessment: $120
Concussion/Vestibular Physiotherapy Treatment: $80
Physiotherapy Assessment + Shockwave Treatment: $115
Physiotherapy Treatment + Shockwave Treatment: $90
Osteopathic Initial Assessment: $110
Osteopathic 30 min Follow-up Treatment: $70
Osteopathic 40 min Follow-up Treatment: $90
In-Home Physiotherapy Assessment: $150
In-Home Physiotherapy Treatment (40min): $110
In-Home Physiotherapy Treatment (60min): $150

Note: Other standardized rates are set by the Workplace Safety and Insurance Board (WSIB) or Motor Vehicle Accident (MVA) Insurance and will vary from the above pricing due to their regulated pricing.
Try Virtual Care
Receive physiotherapy services remotely using video conference technology.